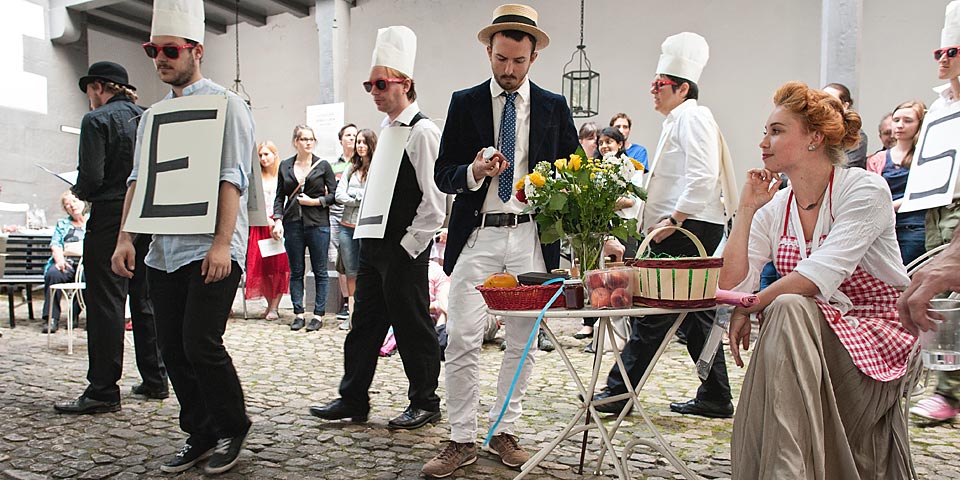 The core of the Master's Degree Program in English is scholarly research on the linguistic, literary, and sociocultural diversity of the English-speaking world in the present and the past. The global relevance of anglophone culture, which influences social domains as diverse as language and literature, film and music, tourism and advertising, and business and politics, invites an in-depth analysis of the complexity of its literature, culture, and linguistics. Furthermore, the dominance of English as the most important lingua franca of our time gives rise to social and political challenges that call for experts in English language(s) and culture(s). At the University of Basel, the development of this expertise is grounded in a strong cultural and interdisciplinary approach.
Focal areas of teaching and research
At the University of Basel's English Department, research and teaching take place in two academic subfields: Literary Studies and Linguistics.
The subfield Anglophone Literary Studies takes an interdisciplinary approach based on cultural studies to address anglophone literature in the context of intellectual and cultural history, as well as in connection with other media. Anglophone Literary and Cultural Studies in Basel focus on the following points:
English and Irish literature and culture since the Renaissance, especially in the fields of drama in the age of Shakespeare, literature and memory, and literature and space (cultural topographies);
American literature from the 18th to the 21stcentury;
Postcolonial literature and theory;
Literary, cultural and media theory, as well as aesthetics.
The subfield Linguistics of English studies the significance and functions of the English language in the past and present, in public and private, in culture and science, and of course in everyday life. Anglophone linguistics in Basel has the following focal points:
Cognitive linguistics and psycholinguistics, especially language acquisition;
Sociolinguistics, pragmaticsand discourse analysis of English.
At master level, students expand their knowledge and skills from the bachelor's degree. The focus of the research part of the curriculum is either on English Linguistics or Anglophone Literary and Cultural Studies.
Almost all courses at the English Department are taught in English.
Program structure
A master's is a second degree that a person can earn after completing a bachelor's. The master's program requires a total of 120 credit points (CP). The Master's Degree Program in English is combined with a second degree subject, each worth 35 CP. The subject in which students write their master's thesis (30 CP) is considered to be their major; the other subject is their minor. Free electives (20 CP) are also included. One ECTS credit point equates to approximately 30 hours of work.
Master of Arts (120 CP)
Major of the Faculty of Humanities and Social Sciences
65 CP (35 CP + 30 CP for the master thesis)
Minor of the Faculty of Humanities and Social Sciences or extra-faculty
35 CP
Free electives
20 CP
Two degree subjects
Combination of subjects
Students are free to select a second master's degree subject that meets their specific interests. Students can choose a subject offered by the Faculty of Humanities and Social Sciences or a subject from another faculty. 
Students are free to choose any free elective. These courses allow students to deepen their knowledge of their degree subjects, gain an insight into other degree subjects offered by the University of Basel, or acquire language skills.
Career opportunities
The academic study of English linguistics, literary studies, and cultural studies opens the door to a variety ofdifferent career options. One of the most popular is teaching. English courses are in demand at all school levels, as well as in adult education. Furthermore, the linguistic and textual skills developed in the academic study of English prepare students for work in numerous professions involving communication, including publishing, journalism, the diplomatic service, non-profit and cultural organizations, marketing and public relations, and information and documentation services. Professional translation is also an option. It is advisable to explore possible career options during your studies and complete appropriate internships or training courses. A small percentage of graduates go on to pursue an academic career.
Teaching diploma
Graduates who are interested in the teaching profession can study for a teaching diploma for the lower secondary level (Sekundarstufe I) or upper secondary level (Sekundarstufe II). For details and teaching diploma regulations, please consult the relevant school for teacher education (such as the FHNW School of Education) or the Swiss Conference of Cantonal Ministers of Education.