Iris Wahlen Callegher: Communications Manager, F. Hoffmann-La Roche AG, Basel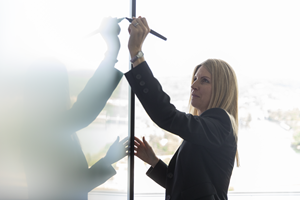 I had always wanted to become a high-school teacher but ended up taking on a job in economics after my studies. I grew very fond of corporate communications and have been working in this area ever since.
The most important skill I learnt at university is to be able to think strategically and in complex ways; in literary studies I learnt to grasp concepts fully and view them from different angles. Linguistics helped me develop an affinity for intercultural communications and the playfulness of language: how to formulate and use the right sentences and words depending on which target audience you want to reach. I acquired academic skills that enable me to do careful research. As a humanities person I feel that I gained a very broad knowledge of all sorts of fields and am thus able to reconsider and reflect on various topics.
It is definitely worthwhile studying a subject in the humanities because the industry does not only need economists. But before you choose English as your subject, you should make sure that you know what it means to study linguistics or literature, which are about more than becoming fluent in the English language.
I also recommend that students of English choose their second subject wisely; if you are interested in corporate communications, for example, it can be useful to combine English with media studies or economics. All in all, philologists are definitely very well-equipped for a position in corporate communications.
I have very fond memories of studying at Basel. I enjoyed having the time to look at texts closely and to think about small but relevant details. The debates and conversations with fellow students and tutors were very fruitful and I am proud to have studied at the oldest university in Switzerland.