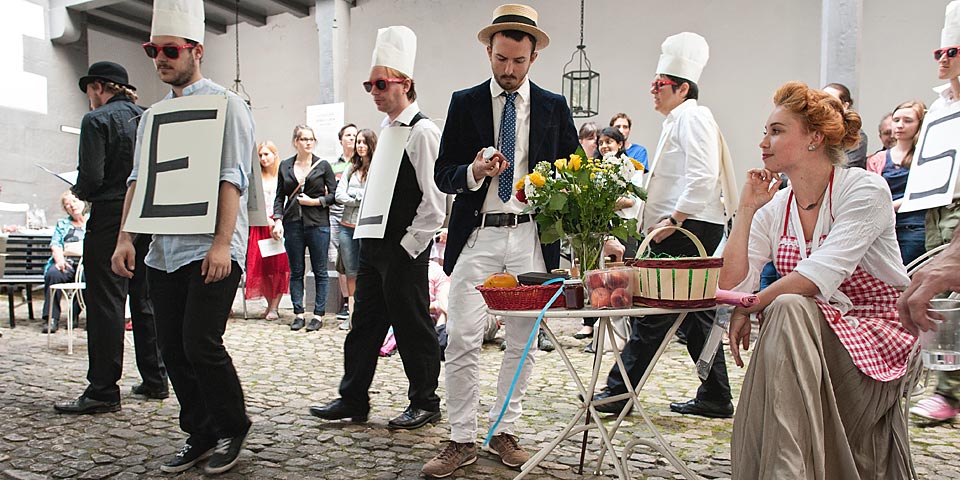 When you study English, the whole world opens up to you: English is now more widely spoken than any other language, and plays a vital role in international communication – especially in business and science. Anglophone culture also pervades daily life through movies, music, advertising, and the media. The academic study of English deals with the contemporary range of the language and the English-speaking world from linguistic, literary, and socio-cultural perspectives, while also addressing its long history. This approach promotes a clearer understanding of cultural change at the global and local level, and of the social and political challenges arising from the status of English as the world's most important lingua franca. At the University of Basel, we address this spectrum of issues through a strong cultural and interdisciplinary approach based on courses in literary studies, linguistics, and language education.
Focal areas of teaching and research
At the University of Basel's English Department, research and teaching take place in two academic subfields:Literary Studies and Linguistics.
The subfield Anglophone Literary Studies takes an interdisciplinary approach based on cultural studies to address anglophone literature in the context of intellectual and cultural history, as well as in connection with other media. Anglophone Literary and Cultural Studies in Basel focus on the following points:
English and Irish literature and culture since the Renaissance, especially in the fields of drama in the age of Shakespeare, literature and memory, and literature and space (cultural topographies);
American literature from the 18th to the 21stcentury;
Postcolonial literature and theory;
Literary, cultural and media theory, as well as aesthetics.
The subfield Linguistics of English studies the significance and functions of the English language in the past and present, in public and private, in culture and science, and of course in everyday life. Anglophone linguistics in Basel has the following focal points:
Cognitive linguistics and psycholinguistics, especially language acquisition;
Sociolinguistics, pragmatics and discourse analysis of English.
At bachelor level, the curriculum introduces students to the complex field of English language(s), literatures, and cultures, andto the theories and methods of linguistics, literary studies, and cultural studies. Students develop an understanding of English and the associated phenomena from a social, cultural, historical, and cognitive perspective. In addition, an essential component of the curriculum is the acquisition of excellent language skills, particularly for academic contexts (both written and oral).
Almost all courses at the English Department are taught in English.
Program structure
A bachelor's is the first degree a person can earn. It requires a total of 180 credit points (CP). The Bachelor's Degree Program in English is one of two subjects studied, each worth 75 CP. Free electives (30 CP) are also included. One ECTS credit point equates to approximately 30 hours of work.
Bachelor of Arts (180 CP)
English
75 CP
Degree subject of the Faculty of Humanities and Social Sciences
or extra-faculty
75 CP
Free electives
 30 CP
Two degree subjects
Combination of subjects
Students can choose a subject offered by the Faculty of Humanities and Social Sciences or a subject from another faculty as their second bachelor's degree subject. 
Students are free to choose any free elective. These courses allow students to deepen their knowledge of their degree subjects, gain an insight into other degree subjects offered by the University of Basel, or acquire language skills.
Bachelor's examination & degree
Deadlines and dates Bachelor studies (see information sheets under documents and information sheets)
Students can register for the Bachelor's examination if they have achieved 60 CP in the subject to be examined or 120 CP in the degree program and have completed the seminar papers that count towards the degree in the subject to be examined or in the degree program. Proof is provided by presenting the module assignment.
It is now also possible to examine only one subject per session. This means that the two Bachelor's examinations can be divided into two sessions (note: only for subjects - it is not possible to separate the two examinations for degree programs).
Please consider: As a resolution the upcoming Bachelor exams will be taken online in the open book format until further notice. For detailed information please read the information sheet Registration Bachelor Examination as well as the information sheet Procedure Bachelor Examination carefully.
|   | FS 2022 | SS 2023 | FS 2023 |
| --- | --- | --- | --- |
| Registration forms (degree subject / program) available from | expired | 23.01.23 | 28.08.23 |
| Registration period | expired | 06.03. - 24.03.23 | 25.09. - 13.10.23 |
| Examination | 09.12. & 16.12.22 | 15.05. & 22.05.23 | 08.12. & 15.12.23 |
| Notification of grades | 20.01.23 | 30.06.23 | 19.01.24 |
| Degree application forms available no later than | 06.01.23 | 03.07.23 | 05.01.24 |
| Examination inspection and application for graduation | 23.01. - 10.02.23 | 31.07. - 18.08.23 | 22.01. - 09.02.24 |
| Graduation ceremony | 22.04.23 | 14.10.23 | 20.04.24 |
Subject to subsequent changes.
Continuing on to a master's degree
After completing a bachelor's degree in English, students may study toward a master's in English (in combination with a second major). We also offer the interdisciplinary Master's Degree Program in Language and Communication, and the multilingual Master's DegreeProgram in Literary Studies, both of which are studied without a second major.
<link de studium studienangebote master sprache-und-kommunikation-master-studiengang external-link-new-window external link in new>MA Sprache und Kommunikation
<link de studium studienangebote master literaturwissenschaft-master-studiengang external-link-new-window external link in new>MA Literaturwissenschaft
Teaching diploma
Graduates who are interested in the teaching profession can study for a teaching diploma for the lower secondary level (Sekundarstufe I) or upper secondary level (Sekundarstufe II). For details and teaching diploma regulations, please consult the relevant school for teacher education (such as the FHNW School of Education) or the Swiss Conference of Cantonal Ministers of Education.