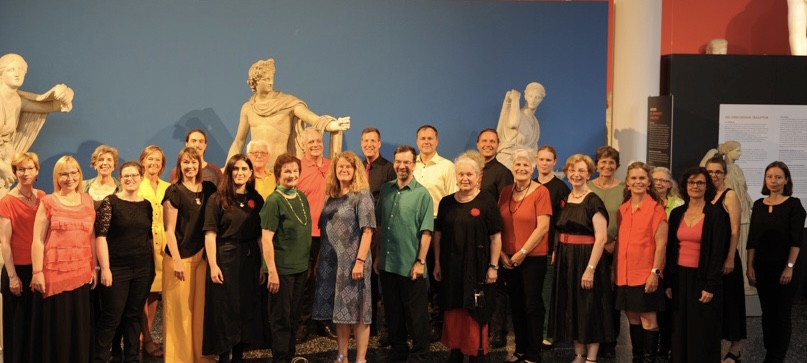 The English Seminar Choir was founded in 1989 by Allan Turner, a former lecturer at the University of Basel. Thanks to his profound knowledge of the English choral repertoire, as well as his dedication to this "hobby", the choir thrived and grew to become an integral part of the English Seminar. Now under the leadership of Reiner Schneider-Waterberg and Raitis Grigalis, the choir is still going strong and continues to offer Basel's concert-going public a wide variety of choral music mostly in the English language. Programmes of the last few years include performances of Purcell's music accompanied by the Ensemble Combassal as well as a collaboration with the South African musician Ha!Man. Last but not least, there are yearly Advent concerts with their traditional and non-traditional Christmas carols and readings each December.
The English Seminar Choir is open to all singing enthusiasts, students as well as non-students. Choir rehearsals are Tuesdays from 12:15 to 13:45 during the university semesters and take place in the Grosser Hörsaal of the English Seminar, Nadelberg 6. We are a registered charity, non-profit organisation and depend wholly on members' dues, concert donations and sponsors for our survival. Any support in the form of concert attendance or passive membership is greatly appreciated.
For more information, please contact President: David Hughes, davehu99@clutteryahoo.com.
For upcoming concerts and further information, visit our website: www.esc-basel.ch